INTERNATIONAL RUGBY EXPERIENCE
The International Rugby Experience is a six-story iconic building located in the heart of Limerick. It explores the five core pillars of rugby through film, interaction and immersion.
IMMERSIVE
FILMING
Heading through the ticket barriers, visitors are enveloped in the electric atmosphere of the locker room, usually only reserved for the players. Immersed in a sound and visual spectacle, visitors are surrounded by an emotive film that conveys the core pillars of rugby.
INTERACTIVE
SKILLS
The interactive skills floor is home to the four "Legendary" skills; kicking, handling, running and strength, all those that are required to lift one's rugby game. At the completion of all four experiences, one can find their ideal position on the pitch, based on their score for each.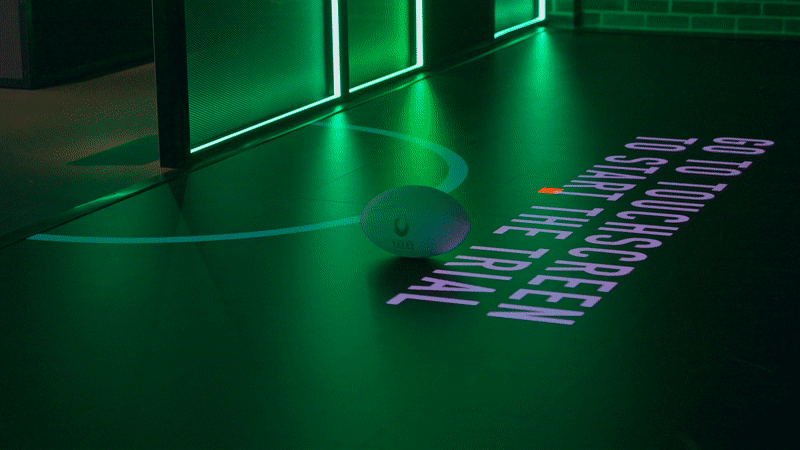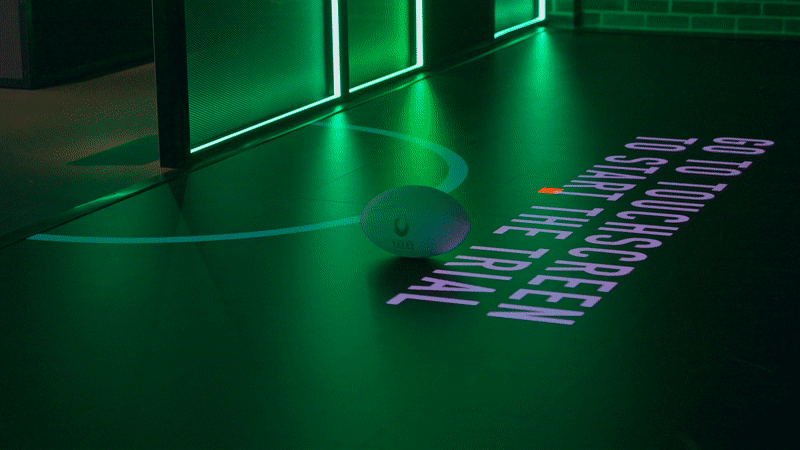 MOTION TRACKED EXPERIENCES
The Teamwork on the Pitch experience brings three visitors together to complete three unique, rugby-themed games. Consumers' positions are tracked using an innovative four system Kinect sensor array, allowing the game to understand where and what dynamic graphics to display on the LED floor.
BIG DATA
VISUALISATION
Driven by big data supplied by a sports statistics database, the experience titled 'Global Growth' sought to educate visitors in a beautiful and accessible way via a curated system displaying dynamic data. The experience was projected onto 3m screens and controlled via a custom interface on a 23" touchscreen.
In order to ensure visual consistency across all of the experiences on each of the five floors, we created a comprehensive design system. This system dictated the style and approach on all of the digital designs within the building. Type, UI components, colours and shapes were just some of the areas outlined during this detailed body of work.
Many of the experiences across the 5 floors, including the interactive skills floor and "Teamwork on the Pitch", or immersive activations like "Expressing National Identity", required sick motion graphics to bring them to life.