INTERNATIONAL RUGBY EXPERIENCE
Chosen for their expertise in digital experiences, OMM played a key role in transforming world-renowned Níall McLaughlin's architectural masterpiece into a set of experiences that is just as unique on the inside as it appears on the outside.
IMMERSIVE
FILMING
OMM filmed a seriously large amount of location shoots at various Rugby grounds over the course of the program.
Creative direction, narrative and styles to include both live video shoots and archival footage, video editing, colour grade and voiceover.
​
The final output was at an incredibly high resolution to the tunnel room, mapped with five projectors and a wide-frequency sound system.
Heading through the ticket barriers, visitors are enveloped in the electric atmosphere of the locker room, and the walkout tunnel. Immersed in a sound and visual spectacle, visitors are surrounded by an emotive film that conveys the 5 core pillars of rugby.
This immersive experience centered around the idea of taking part in the "match of one's life". The visitors enter this introduction to the IRE from the pre-game locker rooms as if heading out into the players' tunnel and finally out onto the pitch.
​
The content tells an emotive story surrounding the five pillars of rugby, enveloping visitors on all sides as they enter the tunnel area.
ART DIRECTION | PRODUCTION | EDITING
On entering the fourth floor, visitors are met by a room-filling, projection-mapped cube, displaying the colours and patterns of the Rugby nations. Inside the cube, they are immersed in a video that tells the story around the origins of the famous Maori war dance - The Haka.
This experience delves into the intricacies of the choreography as a form of cultural art and serves as an expression of national identity. OMM went through an elaborate process of sourcing, selecting and processing of vast amounts of historical material.
INTERACTIVE
DRILLS
There are five experiences dedicated to developing skills necessary to thrive on a rugby pitch. All equipped with high-tech solutions digitising and recording visitors performances, once completed give their participants algorithmically calculated suggestion which
ruby position suits their skills best.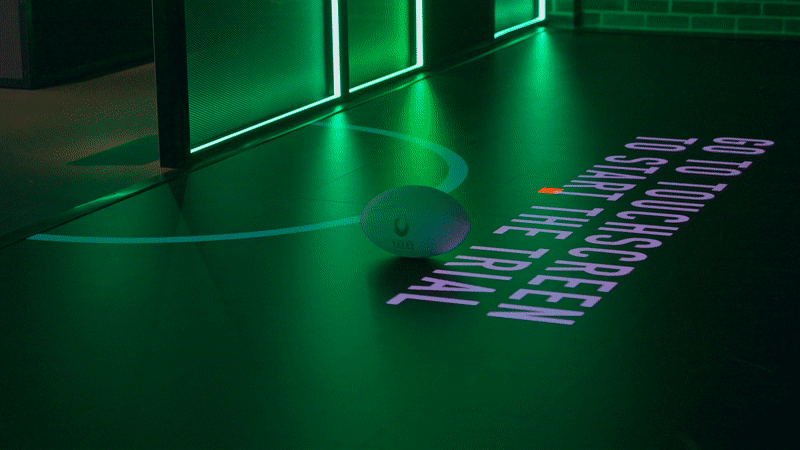 This experience brings three visitors together to
complete three unique, rugby-themed games which will help participants improve their performance in crucial moments during the game of rugby: Scrum and Line-out.
Participants' positions are tracked using an innovative four system Kinect sensor array, allowing the game to understand where and what dynamic graphics to display on four by eight meter LED floor.
KICKING, RUNNING, HANDLING & STRENGTH
One entire floor of IRE's building is dedicated to skills of kicking, handling, running and strength, all those that are required to lift one's rugby game. At the completion of all four experiences, one can find their ideal position on the pitch based on their score for each.
To accurately measure visitor's performance in these experiences we've created a custom tech stack integrating, among other things, two Azure Kinects, two infrared beam sensors, industrial pressure sensor and twelve 24 laser beams.
UX/UI | MOTION | DEV | TECH SPEC
LIVE DATA
VISUALISATION
Using IRE itself as a data source as well as integrating third party API's with real-time Rugby statistics and results we've created a
set of experiences displaying dynamic and complex live data in an accessible way.
Driven by big data supplied by a sports statistics database, this experience sought to educate visitors in
a beautiful and accessible way via a curated system displaying dynamic data.
Projected onto 3m screens and controlled via a custom interface on a 23" screen, it allows visitors to filter the Nations based on various criteria such as rank, region, tournament inclusion, origin year, and more, showcasing the remarkable growth of World Rugby since its inception.
DATA VIS | UX/UI | MOTION | DEV
This piece is the pinnacle of all interactive drills.
At the completion of all experiences, one can find their ideal position on the pitch based on their score for each.
That is all made possible through the comprehensive collection, interpretation, and dynamic visualization of data. The visitor themselves becomes the data source while engaging in interactive drills, and we compile this information
in a custom-made database. When requested, the data is then retrieved and displayed on a 65" touchscreen interface.
On each floor, there is a digital totem introducing a professional player representative of that level of the IRE. As part of the information displayed on the screen, we have integrated real-time player statistics for each rep.
The inclusion of motion graphics adds dynamism and vitality to the totem, enabling smooth transitions between different player-related content and live statistics while embodying rugby's and IRE's core values.
MOTION DESIGN | EDITING | DATA VIS | DEV
DESIGN
SYSTEM
In order to ensure visual consistency across all of the experiences on each of the five floors, we created a comprehensive design system. This system dictates the style and approach on all of the digital designs within the building. Type, UI components, colours and shapes were just some of the areas outlined during this detailed body of work.
We've gathered all reusable UI components inside of
a neatly organised, accessible collection. By providing
a central repository of reusable components, the component library helps to ensure that all activations use a consistent visual style.
This makes the entire experience more user-friendly and easier to navigate, but also provides designer and developers involved in extending IRE's exhibits in the future with everything they need to maintain the uniform look and behaviour across different screens and modules.